Market Study of Battery Mineral Resource in Indonesia
One of the activities in PRN is also mapping the mineral resource needed for battery such as nickel, mangan and cobalt. Consulting with PT Pronilai Konsulis Indonesia (Pronilai), we have obtain the market study report which state and map all the resources in Indonesia include all the companies that are engage in the mining and processing activity related to those 3 minerals.
Astonishingly Indonesia has the biggest resource for Nickel in the world with approximately 30% of the world Nickle production is coming from Indonesia. Indonesia has 800,000 ton of Nickel produced in 2019 while the second producer, Phillipines only produce 420,000 ton Nickel per 2019. Indonesia also has the biggest resource in the world with 21 million ton of nickel, while the second largest is Australia with 19 million ton of Nickel in 2019. This shown that Indonesia is the biggest Nickel producer and resource In the world whilst it can be the biggest producer of battery material in the world. These resources are concentrated in South-east Sulawesi and North Maluku. However, Indonesia still lack of processing facility, with only 34 smelter in operation. Most of the smelter is using pyrometallurgy technology which needs to process saprolite, the high nickel content ore of > 1.8%. This is mainly used for stainless steel production. While for battery, it will need the hydrometallurgy technology which can process laterite, the lower nickel content ore of < 1.8%. In 2020, there are 12 hydrometallurgy smelter in construction to support the battery industry in Indonesia.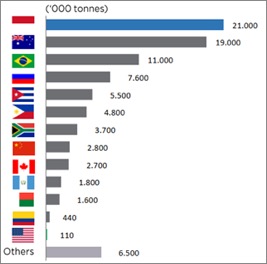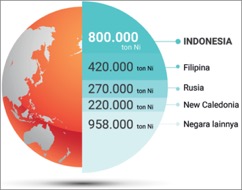 For Cobalt mineral, Indonesia don't have any cobalt concentrated resources. Most of the cobalt in Indonesia is the by product of nickel smelter, where in the Mixed Hydroxide precipitate (MHP) and Nickel Matte there is still cobalt content that can be leached and processed into cobalt sulphate. Indonesia can only produce 30,000 ton of cobalt in 2020 with 1,3 million ton resources. The biggest producer and resource of cobalt in the world is Congo with 4,1 million ton cobalt resource and 140,000 ton production in 2020.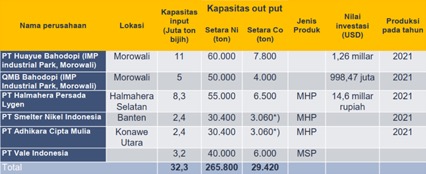 For Mangan mineral, Indonesia is not the biggest producer nor resources. Indonesia only have61 million ton of mangan in 2016 which is roughly around 10% of the world's resources. The biggest country with mangan resource is South Africa with 260 million ton or 32% of the world's mangan resources. Indonesia have around 60 companies that have mangan mining license and they are concentrated in East Nusa Tenggara (NTT).