Battery Technology for Sustainable Energy in Indonesia with Komatsu
Maintaining industrial and economic growth of while simultaneously limitting adverse effects towards the environment has been a major national challenge. Every nation has a responsibility to meet their respective Paris Agreement goals to put the global destruction caused by climate change to an end. NBRI, hand in hand with PT. Komatsu Indonesia proudly presented a webinar with the theme "The challenges and opportunities of battery for sustainable energy in Indonesia". The webinar was held on, Friday, December 11th 2020 at 14:00 - 15:30 WIB via Zoom video conference.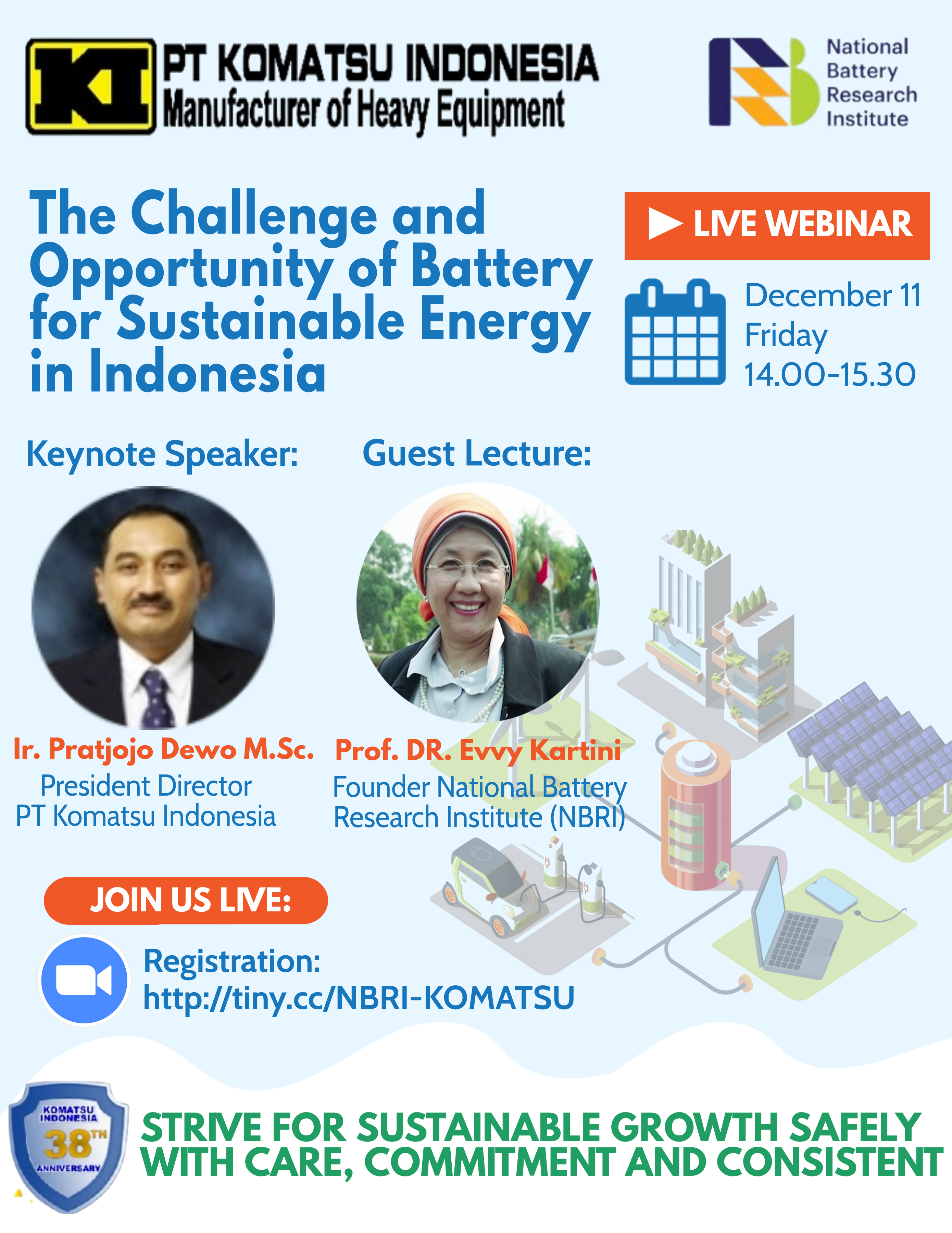 Ir. Pratjojo Dewo, M.Sc., as the President Director of Komatsu Indonesia, first spoke about how Komitsu has commited to start transitioning towards fully electrified heavy equipments that utilize batteries as a power supply. Furthermore, Indonesia has a national plan to increase the share of renewable energy to 23% of energy production by 2025. This national plan, combined with the industrialized use of Li-ion batteries, will surely help the nation in achieving the national goal for Paris Agreement by 2030.
When it comes to applying batteries to heavy equipments, they require batteries with considerably higher power densities. The added advantage of efficiency brought by battery usage has been shown by hybrid Komatsu equipments, which have shown an increased energy consumption efficiency by 45%. Moreover, batteries can be used to store excess energy produced by solar panels or other renewable sources. Currently however, electric options are only available for forklifts and excavators. The main challenge for electrifying heavy equipments are the wide range of classes available, which corresponds to different battery needs.
Afterwards, Komatsu Indonesia and NBRI signed a Memorandum of Understanding (MoU) which was followed by a lecture to introduce NBRI. In the midst of rising global battery demands, combined with the decreasing price of Li-ion batteries, NBRI presents itself as an agent focused on developing the Indonesian battery ecosystem. Furthermore, NBRI also aims to assist in maximizing the utilization of nickel in Indonesia.